Arbitrage Training
Introduction to the best Arbitrage Training program!
Hello sports arbitrage investors,
If you are interested in what is sports arbitrage and how to use the arbitrage software and get sure profit there is a special arbitrage training course that will teach you how it actually works. In this article, you will get the answer of few important questions:

What is arbitrage training program?
How it will help you?
What is included in the arbitrage training course?
What results can you expect after finishing the course?
Arbitrage training program is form of online education and it is well-suited for sports arbitrage beginners. It includes two courses with a detailed explanation of the most important things you need to know for sports arbitrage world with all the little tricks and catches. You will get video lessons how to use the fastest sure bets delivery software - OddStorm and get profit no matter the outcome. There are also text articles with a lot of played situations and examples that will get you prepared for every situation you could see in the arbitrage software. You will learn all the risks of arbitrage betting and how to avoid them. This includes how to stay under the radar of the bookmakers and avoid limitation, what errors you could expect and what is necessary to be done to avoid technical errors and other mistakes that will lead you to losses.
There are a lot of arbitrage services and if you wonder why we choose OddStorm, the reason is that we have tested them all, and none of them is more suitable for beginners and professionals as OddStorm is.
They have the fastest sure bets delivery software and this means that you will see the arbitrage situations 2-3 times faster than the users of the other arbitrage services. This is very important because in sports arbitrage betting you have to be fast and it just couldn't be better - you will be the first to see the arbitrage and place the bet before the other even know for the existing of this arbitrage. This is a good start and when you become better than you could take the next step - placing bets on live events (InPlay). Most of the other services don't even have Live arbitrages and this is really bad because the % of live arbs compared with future arbs is much bigger - from 0% - 5% for PreMatch to 5%-15% for InPlay.
This means that when you become good enough to earn money from PreMatch you could rise and make much more money for less time with InPlay arbitrages. And OddStorm software delivers you these odds every 1 to 3 seconds which is the fastest delivery you can find on the market. They also offer Middles and Polish Middles which is detailed explained in our "Free Arbitrage Guides course".
Another thing you will find in our training program is a test at the end of each lesson. We will ask you questions to check what you have learned and if you don't know something you can always go back to the course and read the information again and after that to get back and retake the test. Our arbitrage training course also provides you with members group where you could meet other arbitrage players and discuss everything associated with sports arbitrage. It sounds great, does it? The truth is that it really is great! We have more that 300 students that have tried our "Complete Arbitrage Guides" course and we have made our course the best all thanks to their feedback. You can check what the complete arbitrage training course includes here:"Complete Arbitrage Guides".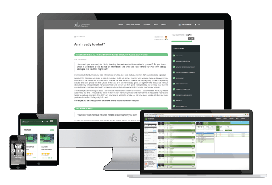 At the end we want to tell you something about us - we are a team of two people. My name is Iliyan and I am a professional sports arbitrage investor since 2007, and until then I have huge experience and my mission is to help you guys not making the same mistakes as I did and prevent losing your money. The other member of our team is arbitrage software developer and we are all working together to improve our skills with your help. You can read more for us here "Meet Arbitrage Guides Team". We will appreciate any feedback you give us and if you have any questions don't hesitate to ask us at support@arbitrageguides.com. We will  give you a professional answer within  24 hours.
Don't waste more time and join our arbitrage training courses:
Let's turn gambling into investing!
Join our team and get started with your professional sports arbitrage career! Sign up
Check out how much money do you need for placing sure bets or "Which are the suggested bookmakers for beginners in sports arbitrage betting?"
and also
What is sports arbitrage?