Monthly profit from sure bets
What is the monthly profit from sure bets (ROI)?
The monthly profit from sure bets is also known as ROI (Return on Investment).
Usually, the average ROI is about 8% to 13% per month for PreMatch but let's say it is 10%. It is up to you how often and how much you want to bet because as often you bet as bigger earnings you will get. Especially if you bet with high amounts if your bankroll is about 2 000€ you will get about 200€ per month or maybe more.
For the advanced bettors on InPlay, the situation is different. The average % of returning is about 20%-40% and if we say that you have 3 000€ in your bankroll if you are playing 1-2 hours a day and more time on the weekends you can expect about 1000€ profit per month or maybe more. It depends on with how big stakes you are betting and how often.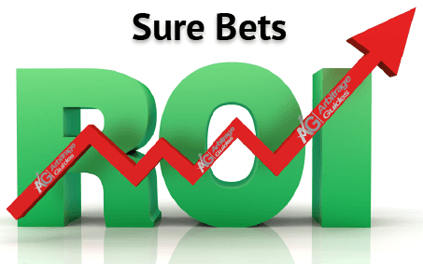 With InPlay betting, you don't have to wait hours or days to gather your efforts. You are doing it every few minutes and that's why you can make even twice the money you got in your bankroll.
The professional arbitrage bettors that are living this way usually have bankrolls with about 20 000€ and their monthly profit from sure bets is more than 10 000€ but they are doing this for a long time and have huge experience with the fastest sure bets delivery service - OddStorm (2-3 years).
Sports arbitrage market is one of the few left places where you can make sure profit. So if you are strong minded and persistent with a desire to invest in sure profit our courses are the best place to start from. After all, the average monthly profit from sure bets ( 10% to 30% ) is not bad at all. So don't waste your chance and learn more for how to distribute your money between the bookmakers, what should be your maximum stakes per sure bet to stay under the radar of bookmakers and much more in our training courses below.